The Masterclass with Lori-Ann Murphy & Patty Reilly
Henry's Fork, Idaho
Dates:
August 5-8, 2021 or August 4-7, 2022
Price:
$3,849 Single Occupancy or $3,299 Double Occupancy
Join us on the world-renowned Henry's Fork River, for "Henry's Fork Masterclass" with Lori-Ann Murphy and Patty Reilly. Come join in the fun as Lori-Ann and Patty share their guiding careers and fly fishing lessons learned along the way. As early leaders in women fly fishing they have guided waters and learned from legends around the world. Let them show and share with you on one of their all time favorite rivers. Fly fishing history is reflected in the waters of the Henry's Fork. Legendary fly tiers, guides and conservationists have contributed to this watershed legacy. We'll help both intermediate and advanced women anglers review their current skill sets and goals and take them to the next level through the course of our event.
August 5th Starting at 3 PM – We'll take a dry run at casting. Starting on the lawn, then the river in Harriman State Park reviewing your current casting abilities and talking about basic techniques. Set the stage to take everything from your roll cast to your double haul to the next level. Then we'll move to a reception and dinner at the lodge and get to know more about you and your specific learning requests.
August 6th – A day of training from two of the industry's masters. We'll start with knots; everything from attaching the fly line to your reel, down to the fly, and in between! Then we'll move into matching the hatch. Basic groups of bugs and how to match your fly selection to what is on the river during the time you are there. In the afternoon we'll go back to Harriman State Park for additional casting practice on the lawn and in the river. As the afternoon goes on Patty and Lori-Ann will be nearby to assist those wanting to further develop casting techniques or specific questions while on the water.
August 7 & 8 -We'll be fishing the famous Henry's Fork with local guides who know the water well. Two ladies per guide boat. We'll be there in the morning and evening to answer questions, further refine techniques and offer other practice ideas for your specific situation and goals.
This trip is limited to 10 guests….5 spots already taken. Reserve yours today!
Reel Women Fly Fishing Adventures is thrilled and honored to hold the "Henry's Fork Masterclass" event at the Henry's Fork Lodge. If you have not been there, here is a bit of information to help you understand how special this is.
Henry's Fork Lodge has long been acknowledged as one of the world's premier fly fishing destinations. The lodge was one of only two fishing lodges worldwide to be included in The New York Times bestseller 1,000 Places to See Before You Die, and was named fishing lodge of the year by Andrew Harper's Hideaway Report and by Big Sky Journal. Our food has been recognized in Bon Appetit and Sunset magazines, and we've been featured in countless travel and fishing publications, including Men's Journal, Town & Country, Travel & Leisure, Field & Stream, Trout Magazine, Fly Rod & Reel, and many others.
Chef Mathew Dusharme, a graduate of the Culinary Institute of America, is rooted in farm-table beliefs and he sources nothing but fresh local, seasonal ingredients. His meals are nothing less than exquisite. After dinner you are welcome to relax on the patio overlooking the Henry's Fork or retire to your room with fine linens and other comforts to help you relax before bed. Review the gallery of photos, reviews by Michael Keaton and countless others, or the sample menus to give you a small taste of this special trip.
Fly into West Yellowstone, MT or Idaho Falls, ID and the lodge will help you with a shuttle. You can also fly into Jackson Hole, WY or Pocatello, ID and drive about two hours to the lodge. If you need additional accommodations for the night of August 8th at the lodge or something closer to your flight we'd be happy to assist with logistics. If you are driving we are located at 2794 S Pinehaven Dr, Island Park, ID 83429.
Lori-Ann Murphy
Lori-Ann has fished all over the world and won many competitions -including ISE's Best of the West and IWFF. She was part of team 'Underarmour' winning the Flyfishing Masters.  In 1994, Lori-Ann started Reel Women Fly-fishing Adventures, the first group to offer women's flyfishing trips all over the world. Ladies fly-fishing schools, casting clinics and the first women's guide school quickly followed. Later she moved to San Pedro, Belize and further developed her womens programs while guiding and managing a local lodge. Orvis awarded her with the "Breaking Barriers" award in 2015. She then led the El Pescador team to Orvis International Lodge of the Year. Today she operates both Reel Women Flyfishing Adventures and Reel Belize from San Pedro and Montana in the summer.
Patty Reilly
Patty took her first two clients down a stretch of river through Grand Teton National Park called Deadman's to Moose in 1979. After having spent significant time in South America, she and an associate opened the first commercially guided rafting companies in Argentina -including fly-fishing trips that same year. She has also guided in Alaska, Yellowstone, and the South Fork of the Salmon. Today she runs her company Guided Connections from her home in Wilson, WY; helping her clients with their favorite trips in Chile, Argentina, the Yucatan, British Columbia and of course the Rocky Mountains. www.GuidedConnections.com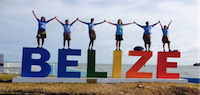 The vision of Ocean Academy is to create an environment where students are welcome to come and learn, regardless of their previous academic achievement or socioeconomic status.