Permit Quest
Dates:
February 12-18th, 2021 or
February 19-25th, 2021
February 12-18, 2022 or
February 19-25, 2022
Price:
$3,295 Single Occupancy or
$2,995 Double Occupancy
This is one of our most popular trips! Palometa or Permit are one of the most elusive fish- and landing one is something anglers put great effort into pursing. Belize has a large population of Permit and we regularly see schools on the flats around Ambergris Caye as well as singles tailing. Combine these odds with daily clinics from Lori-Ann and our phenomenal English speaking guide team… …join us to land your Permit!
Five days of guided fishing and six nights (single occupancy) will introduce you to other fly fishing fanatical women who love the sport. You'll leave with some life-long friendships and be a better angler after clinics with our team and probably a couple of clinics put on by Permit while on the flats for 5 days!
In 2021 we've scheduled Permit Quest during a great moon phase and during the opening of Lobster season. A tasty time to check out San Pedro, the lobster festival, and all the experiences this week will bring. The trip is open to any level of fly-fishing. During our first year of Permit Quest the 'newbie' landed three Tarpon in one day. Come join the fun!
Pelican Reef Villias offers nothing but the best in relaxation and services. After a hard day on the flats you'll be ready to enjoy the pool bar, beach hammocks or lounge chairs near the pool. If you'd like to keep exploring, take a dip off of the 350 foot pier, grab paddleboards, sea kayaks or bikes to explore the ocean or San Pedro itself; all included in your package. Wireless internet is included and the team can assist with any print/copy/fax needs if you must do some work.
Reel Women Fly Fishing Adventures accommodates our guests in the two or three bedroom suites at Pelican Reef. You'll have your own room and bathroom but share a common kitchen and sitting area.
Before departure each day you'll choose a breakfast entrée from the Nest Grill. Lunch will be packed and ready for you on the water. At dinner, our chefs, Delcia and Norma will be in daily to cook and serve Belizian style dinners. Rum and beer is provided. If you prefer wine or hard alcohol we can make arrangements for any requested items you'd like to purchase.
Fly into Belize City and take a short 16 minute flight to San Pedro. We'll pick you up at the airport and take care of everything from there. Flights are offered by Tropic Air and Maya Island Air between Belize City and San Pedro.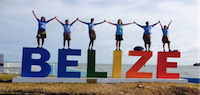 The vision of Ocean Academy is to create an environment where students are welcome to come and learn, regardless of their previous academic achievement or socioeconomic status.